I'm a big believer that if you want to eat good food, you have to buy good food. It has to be there to inspire you… to remind you…to guilt you for allowing it to sit there day after day…
My plan has definitely been working. I have felt super bad about not preparing and eating the butternut squash that has been sitting on my counter for days, wondering why it is getting passed over. It's a healthy option, full of nutrients, vitamins and antioxidants. Its low in calories and high in fiber. Just the kind of thing I should be feeding my family… Yet, everyday… I choose something else.
Luckily, those suckers can be just fine for a long time on your counter!
So finally the time has arrived. Today is the day that I will make the butternut squash dumplings! And I think my family is going to be really happy about what I've got planned.
I chose to go with a couple of tried and true kid techniques I've discovered….Choosing flavor profiles that I know they like, and making something they can eat with their hands. For my post, I chose to make them myself, BUT in real life I would totally have the kids help me assemble them. They LOVE when they get to help make something, and always want to eat their creations!
Butternut Squash Dumplings
Yield: 30-40 dumplings
Butternut Squash Dumplings Ingredients:
3 cups Butternut Squash, roasted (approximately 2 1/2 lb squash- whole)
4-6 whole garlic cloves, unpeeled
2 Tablespoons olive oil, divided
10 fresh sage leaves
1 large shallot, minced
1/4 teaspoon thyme
1/2 teaspoon dried parsley
1/2 teaspoon salt
1/8 teaspoon white pepper
2-3 Tablespoons maple syrup
*1 package Gyoza wrappers
*(Check the packaging! For some reason the square wonton wrappers (that are of course much easier to find) have egg in them, but ask around. I have found that the circle Gyoza/Potsticker wrappers usually don't. I've found them in the freezer section)
Butternut Squash Dumplings Dipping Sauce
2 Tablespoons soy sacue
1/2 teaspoon toasted sesame oil
1 Tablespoon rice wine vinegar
1 spring onion, white only, finely sliced
1/2 teaspoon fresh lime juice
3 teaspoons agave
1/4 teaspoon freshly grated ginger
*2 Tablespoons vegetable broth
The Procedure for Making Butternut Squash Dumplings:
Preheat oven to 400 degrees.
In a small bowl, add all of the dipping sauce ingredients and set aside to allow flavors to meld.
Halve and remove the seeds from the Butternut Squash. Lightly oil and season the cut half with salt. Cut slits in the flesh of each half and tuck in 5 sage leaves on each side.
Place squash cut side down on a lightly oiled baking sheet.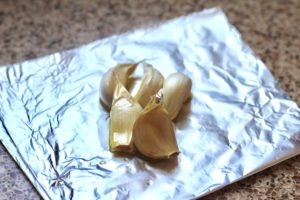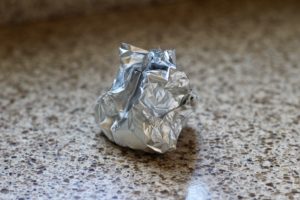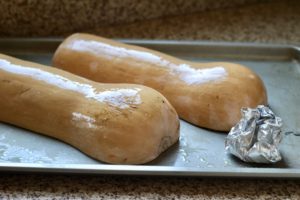 Place garlic, unpeeled, in a square of foil and lightly drizzle with oil. Bring sides of foil up, to make a bundle and place on sheet or dish with squash.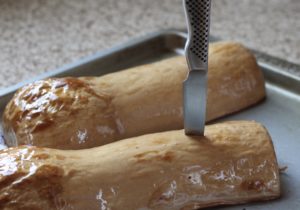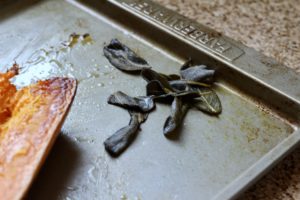 Roast for 30-40 minutes, or until a knife easily pierces through the flesh of the thickest part of the butternut squash. Set aside to cool. Reserve the sage leaves
Once squash has cooled enough to handle, scrape out flesh into a bowl. Mash with hands or a masher and set aside.
In a small saucepan heat 1 Tbsp of olive oil over medium heat. Add minced shallots. Cook for about 3-5 minutes or until starting to soften.
Add the thyme, parsley, salt and pepper, and cook for one minute or until the herbs become fragrant. Squeeze the roasted garlic out of its peel into the pan along with the chopped reserved sage. Stir to mix well.
Add 3 cups of the butternut squash into the pan, and stir until the ingredients are well mixed. Lower the heat to low-medium and spread out filling in the pan.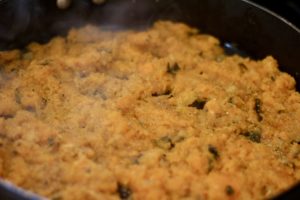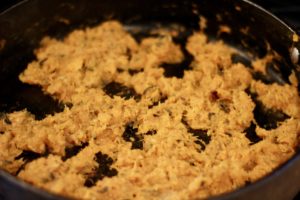 Allow it to cook for about 10 minutes, stirring occasionally to allow some of the water to evaporate. Adjust seasonings to taste.
To Make Dumplings: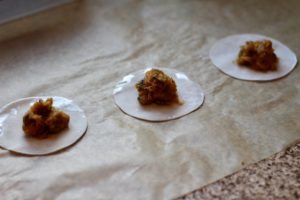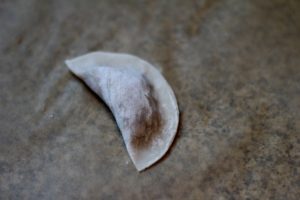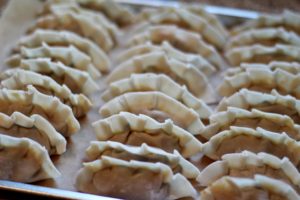 Place 1 teaspoon of filling in the middle of each gyoza wrapper. Moisten 1/2 half of the circle with water and bring the other side over to make a semicircle. Pinch and fold top of gyoza to make a pattern around the top. Set aside, and cover with a damp towel.
*Keep a damp towel over unused gyoza circles to prevent them from drying out as you work. You can do one at a time or create an assembly line.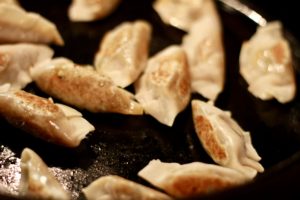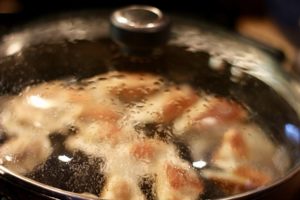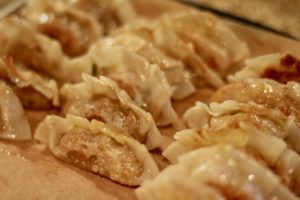 When you are ready, heat 1-2 teaspoons of oil over medium high in a large pan. Add dumplings to the pan and brown on the bottom and both sides. Add 1/4 cup water of water and immediately put the top on the pan to allow them to steam. Once the water has evaporated, they are ready to serve!
*Cook in batches. Don't overcrowd the pan.
Other than Butternut Squash Dumplings, I also have Vegan Veggies and Dumplings Recipe