Chickpea Tuna Salad is one of those things that people can get very particular about…some like sweet pickles, or dill pickles, I've even seen nuts. This is your basic go-to recipe. Its the way I like it, pretty straightforward, but go forth and make it your own!
Favorite lunch alert! Sometimes you can get in a rut with lunch, and though this is by no means a new idea, its a great one. And every once in a while you just needed to be reminded of what a delicious situation a 'tuna' salad sandwich can be. And this one is even better because no tuna were hurt!
Actually, this is a great recipe for a few reasons. It's fast and easy, it's high in protein, it's super satisfying and you can fancy it up with cucumber slices or get all down and dirty with a loaded sandwich. Enjoy!
Vegan Chickpea Tuna Salad
Yield: 1 cup
Ingredients:
1 cup canned chicpeas (drained and rinsed)
2 tablespoons onion finely diced
¼ cup celery finely diced (about 1 stalk)
3 Tablespoons Vegan Mayo
*(my vote is Hampton Creek's Just Mayo. If you can't get that, go for Follow Your Heart's Vegenaise)
1 teaspoon Dulse
(seaweed- find it in the Asian Foods section)
¼ teaspoon salt
freshly ground pepper
Procedure:
Place drained chicpeas in a large bowl. Smash with a potato masher until there are no whole beans left.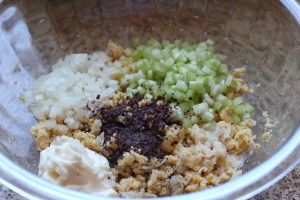 Add in all ingredients and mix.
That's it! You're a superstar. Now serve to your impressed friends!