Even if you've never made vegan black bean tamales in your life, this step by step guide will leave you totally impressed with yourself, and with a pile of fresh tamales to chow down on!
Ok let me first say that I haven't learned the art of making tamales by the women in my family who have passed it down through generations… But I am from Southern California, and I LOVE a tamale!
I love the masa. I love the filling. I love that you can hold them in your hands. I love that they are wrapped in a corn husk…
So if I figured, if I was going to be getting Vegan tamales on the regular, I better learn how to make them myself. My first attempts were rather 'appetizer' sized, but through trial and error, I have finally come up with a system that is pretty easy to do (keep it real though, you still have to form 20 tamales) and totally satisfies my tamales needs.
Suffice it to say, that you too can make Vegan tamales at home. And you will feel… so…cool.
Vegan Black Bean Tamales
Yield: about 20 medium tamales
Ingredients:
For the Filling:
2 T evoo
1 med onion (diced)
2 cloves garlic
2 tsp cumin
1 tsp chili powder
1 tsp paprika
1 tsp smoked paprika
1 tsp oregano
1 ½ tsp salt
1 ¼ c. veg broth
½ c tomato sauce
2 cans black beans
1 potato, diced
¾ c fresh or frozen corn
1 cup zucchini, diced
For the Masa:
5 c masa harina (I used Maseca brands 'Tamal Instant Masa')
2 3/4 tsp sea salt
4 t baking powder
1 ½ tsp cumin
1 ½ tsp onion powder
1 tsp coriander
2 cups hot water
2/3 cup refined coconut oil
1 ½ cup veg stock
20-30 Dry Corn husks
2 cloves garlic for cooking water
Procedure:
Place the corn husks in a large bowl, and cover with water. Weigh them down with a can to keep them submerged. Let them soak for an hour while preparing the rest of the ingredients.
For the Filling: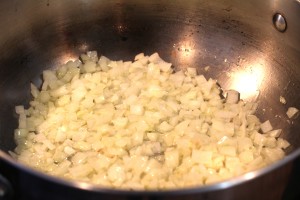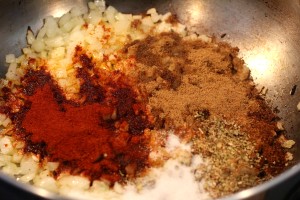 In a large saucepan, sauté onions over med/low for about 3-5 minutes or until they start to soften. Add garlic, spices and salt. Cook for one minute more until spices become fragrant.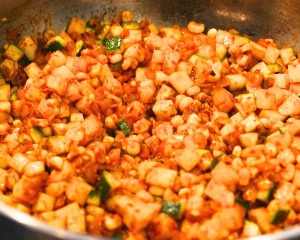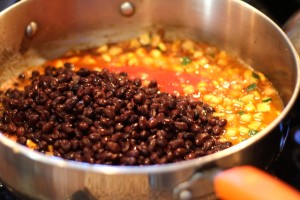 Add potatoes, corn and zucchini and stir to coat. Add tomato sauce, broth, and beans and stir well. Bring to a boil, then lower heat and cook, uncovered, for 7 to 10 minutes.
It should be a thick chili consistency. Take off of the heat and allow to cool. It will continue to thicken a bit as it cools.
For the Masa:
Combine Masa, salt, baking powder, cumin, onion powder and coriander in the bowl of electric mixer. Add hot water and mix on low speed until mixture is crumbly or even a stiff dough.
In 3 to 4 additions, alternately add the coconut oil and stock. Increase speed once incorporated and beat for 5 minutes. The dough should be a similar consistency to peanut butter. If necessary add more Masa by Tablespoons until it reaches the desired thickness.
For Assembly:
Prepare an assembly line with your soaked corn husks, masa covered with plastic wrap, and filling.
*(I made a double batch, so all of your yields will be half of what is seen here)*
You will want one to 2 towels, a scoop to get out a portion of masa, and a wet paper towel to wipe off your hands… cause they get messy!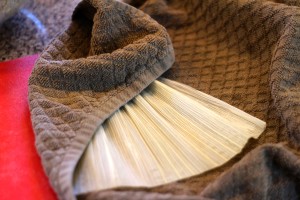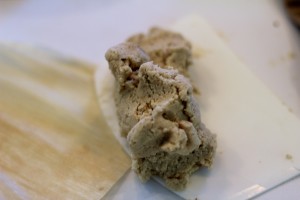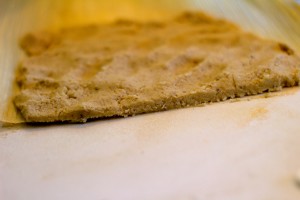 I start by taking a husk and drying it off with the towel. Ok….here's where I might get in trouble by true tamale artists….I grab a hunk of the masa and smoosh it out with my hands like play-doh.
On the smooth side of the husk, press the dough out until is about 1/4 inch thick, or the thickness of masa YOU like. I find this technique helpful because I can feel and see the thickness better, and it gives me more consistent results. Sorry.
Place about 2 Tablespoons of filling in the center, leaving a little space at the top and bottom.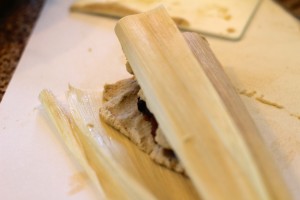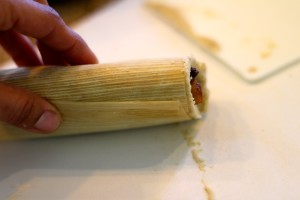 Start to roll the tamale so that top edge of the masa meets the bottom with a little overlap left. I lift up one edge of the husk so that the masa meets and seals in the filling. Wrap it fully, and fold the bottom up to form a package.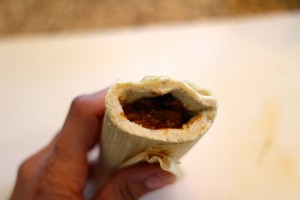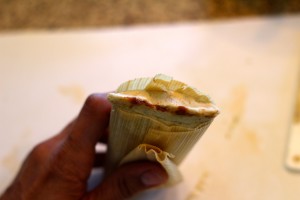 If necessary, push the filling down a bit from the top with a spoon so that you can seal the tamale.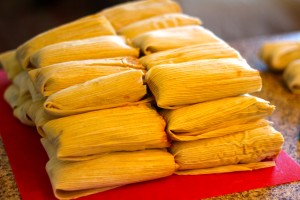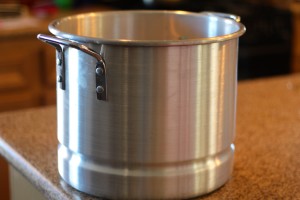 Once they are finished, prepare your pot. I use a large tamale pot, but you could use a tall pasta pot with a steamer basket.
Crush a couple of cloves of garlic and place them in the bottom of the pot. Then fill with water up to the bottom of the steamer basket/tray.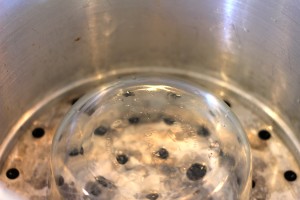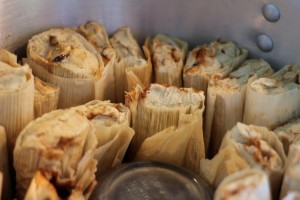 Arrange the tamales standing up with the seam side up. Depending on how many tamales I'm making, I sometimes use a glass bowl in the center to arrange them around.
Bring the water to a boil, then lower heat to low/medium and cover. Cook for 1-2 hours, checking the water level every 15-30 minutes depending on the size of your pot, and adding more water when necessary.
You can check the doneness of the tamales by removing one and letting it cool for about 10 minutes. Open the tamale. The masa should be firm. If it is not, wrap it back up and continue steaming until it is.
Time to throw down!
I like to make some rice and a salad to go on the side. And of course I finish the meal off with my Vegan Flan!
To reheat the tamales, wrap them in a moist towel and microwave for about 2 minutes each, or return to the steamer basket and steam 6-8 minutes.